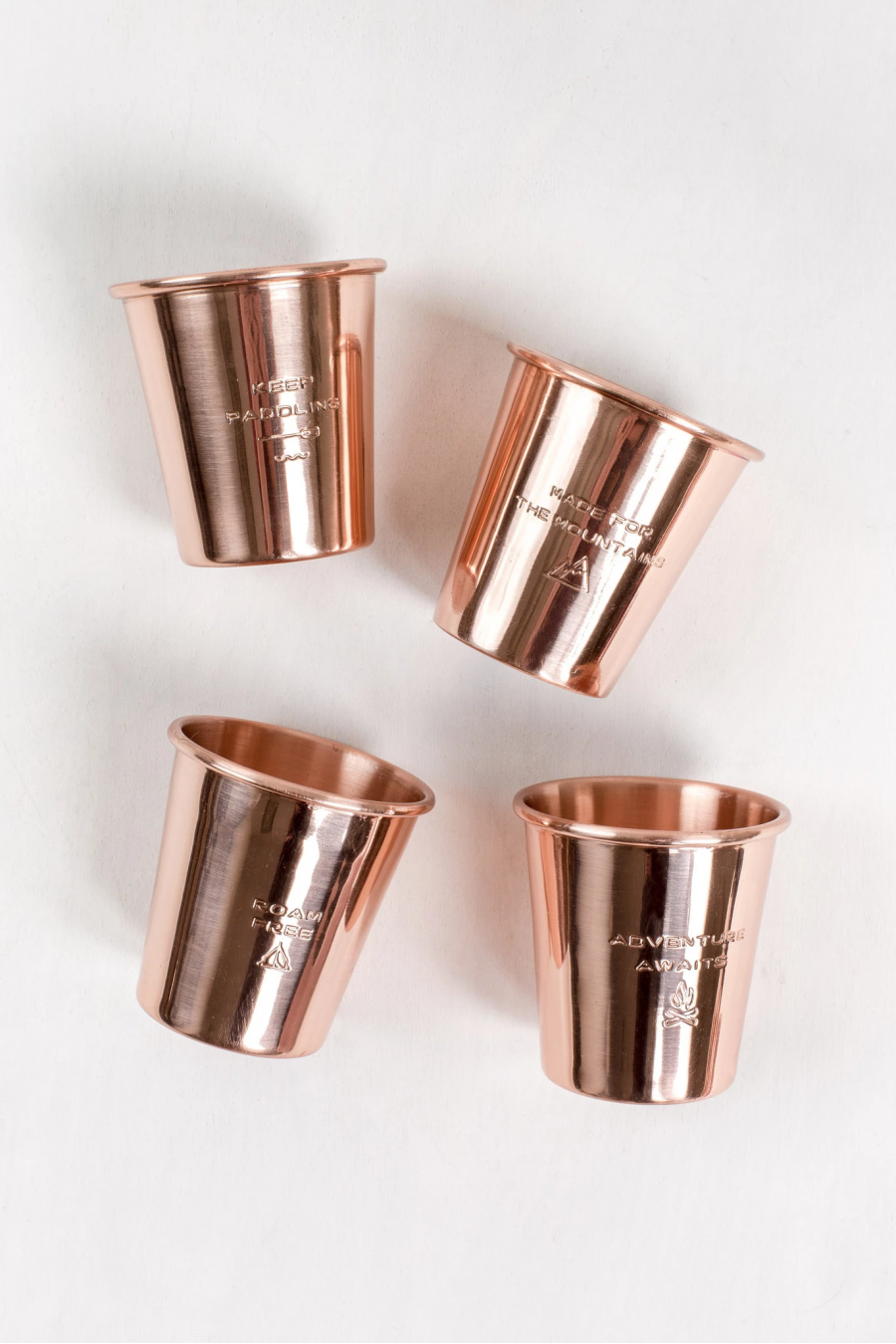  
UNITED BY BLUE COPPER SHOT GLASS SET 85-COPPER TU
UNITED BY BLUE
The perfect party companion, engraved with detailed illustrations that are worth toasting.
Packaged in batches of 4
1.5 oz each
Built with the highest quality copper and finished with a reductive tarnishing lacquer on the inside.
Hot tinning on the inside for better corrosion resistance.
Each piece of copper is hand-welded; small imperfections are part of their charm.
FOR EVERY PRODUCT SOLD, UNITED BY BLUE REMOVES ONE POUND OF
TRASH FROM OUR WORLD'S OCEANS AND WATERWAYS.
We created United By Blue in 2010 with the idea that a successful outdoor brand can do serious conservation
work. This means everyone here at United By Blue is rolling up their sleeves and removing plastic bottles,
styrofoam,
tires, old appliances, you name it from creeks, rivers, beaches, and streams.
We organize and host cleanups to make a measurable impact on the most pressing of
environmental problems: ocean trash and plastics pollution.
OUR PRODUCTS
WE'RE ALL FOR GETTING OUT MORE
We believe that products designed for enjoying the outdoors should also be kind to the outdoors.
We put a lot of thought into the materials that make up each piece and always opt for
textiles that keep our oceans, air and soil a little cleaner.
WE'RE A CERTIFIED B-CORP
WE THINK FOR-PROFITS SHOULD BE FOR THE ENVIRONMENT
We're part of an awesome group of for-profit companies that meet rigorous standards
of social and environmental performance, accountability, and transparency.
We decided to go for the B-Corp certification for two reasons:
he first was to set a standard of excellence in the product we deliver our customers.
The second was to become a member of a supportive community of businesses
that have similar economic, social, and environmental aspirations