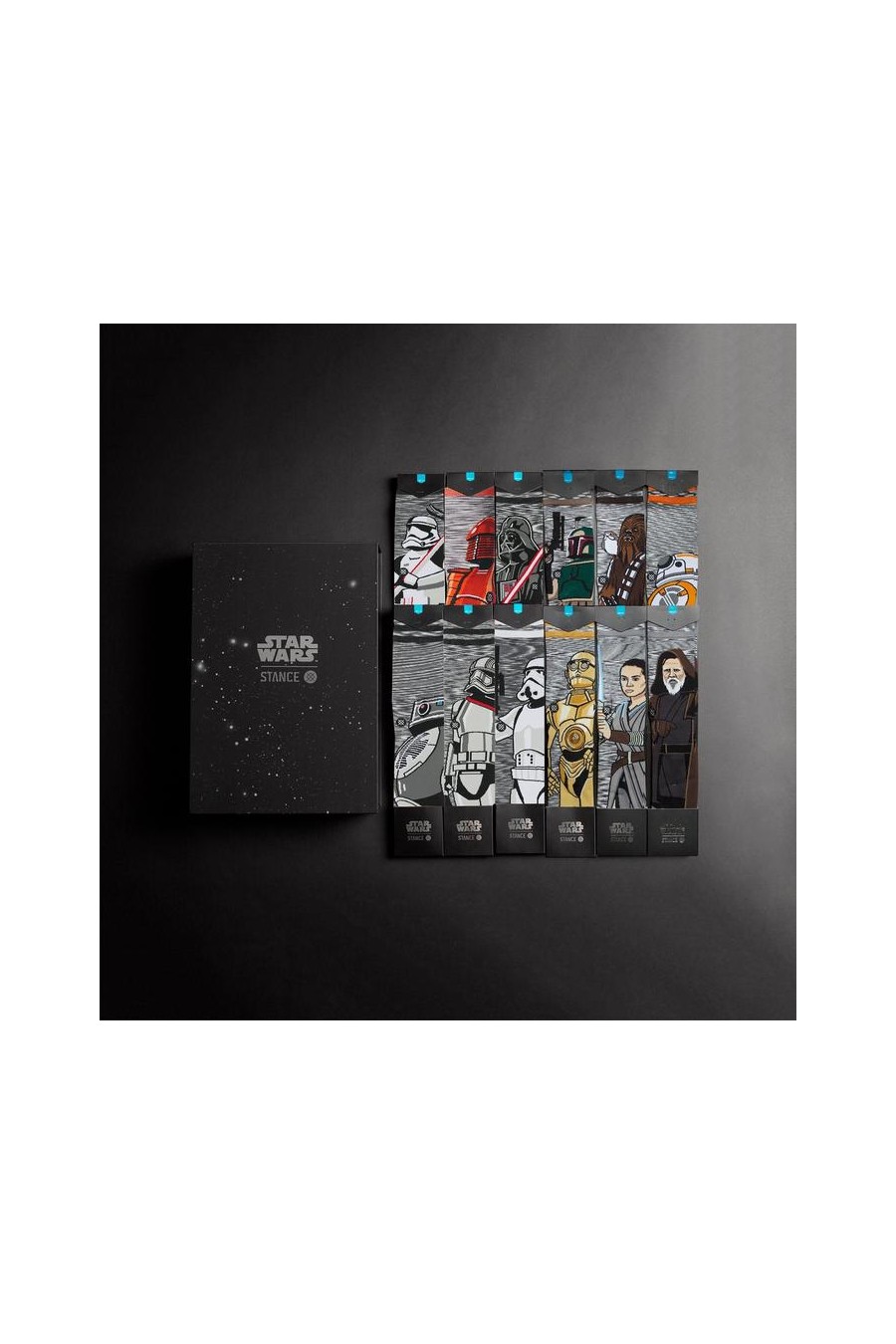  
STANCE STAR WARS COLLECTION BOX
STANCE STAR WARS COLLECTION BOX
The most popular box set in the entire galaxy has arrived. 
The Stance Star Wars collection box has 13 pairs of the greatest characters in the Saga, including: 

+ Execute, 
+ Red Guard, 
+ Darkside, 
+ Bounty Hunter, 
+ Chewie Pal, 
+ BB-8, 
+ Astromech, 
+ Captain Phasma, 
+ Empire, Android, 
+ Rey Force, 
+ Luke Jedi. 
That's a lot of good and evil in a box.
STANCE STAR WARS COLLECTION BOX
EMBRACING "THE UNCOMMON THREAD" AS A MANTRA
We have turned socks into one of the world's most exciting accessories in less than five years. 
Our founders saw a category that had been ignored, taken for granted, looked over,
and dismissed. 
By creating life into something that had been overlooked, we ignited a movement
of art and self-expression 
that has drawn athletes, performers, and iconic cultural influencers
to the brand--a group we call the Punks & Poets. 
By underpinning our creative roots with a relentless focus on technical innovation,
we've ensured that
Stance socks are now found in over 40 countries on the feet of those who dare to be different.
WHAT WE LIVE BY

ENTREPRENEURSHIP
We take calculated risks to advance our people and our business.
CREATIVITY
Difference inspires our culture, stories and products.
We celebrate divergent perspectives that spark original solutions.
PERFORMANCE
We value approaches that get results and enhance our ability to get results in the future.
PERSONAL RESPONSIBILITY
We believe responsible people thrive on freedom and are worthy of that trust.
GRATITUDE
We are humble in our communications with and treatment of others;
we are quick to give credit for results, and slow to take it.